Love West Oxfordshire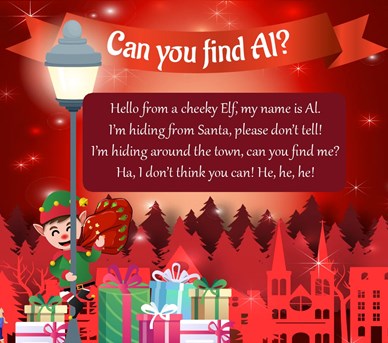 Al the Elf 
Can you help Santa to find Al? Al has run away from the North Pole, and Santa wants us to find him. It's Santa's busiest time of the year and he needs Al to help make all of the presents and load the sleigh to deliver presents to children across the world. 
We have heard whispers that Al has been spotted around Witney, Chipping Norton and Carterton. And we need your help to track down where he has been so that Santa will know where to find him.
Al has been to ten places in each of the towns in West Oxfordshire and his picture is being displayed all over the town centre. Can you find all ten?
We are offering a prize to two lucky children who can spot and write down where Al has been seen. All you need to do is take a pen and paper with you, find Al, take a note of his number (these are beneath the QR code) and enter the information in the form below; this will automatically be submitted to us. We will be drawing the prize winners at random in the New Year. 
We are offering a further prize for the best 'selfie' taken with Al. All you need to do to enter is post your picture to Twitter, Instagram or Facebook with the hashtag #FindAl. We will retweet some of the best ones from our social media accounts.
Have you spotted Al the Elf? Enter our competition
---
LoyalFree App
The Love West Oxfordshire LoyalFree App was introduced in July 2021, to encourage shoppers and visitors back to the high street, after the Covid-19 pandemic left many businesses in need of support.
Businesses across West Oxfordshire have signed up with a range of offers such as discounts on wine, beauty treatments, free coffees, meals out, electrical goods, books and even discounts on sports club membership. Residents who download the app for West Oxfordshire will also be able to access deals across the rest of the country via the wider LoyalFree network.
The app also provides trails that give users the opportunity to explore West Oxfordshire in a new way with routes like the Downton Abbey Trail and Witney Historic Sites trail giving an extra dimension to days out. Event listings ensure you'll never miss out on all offers.
The app is available for free on Google Play and the App Store
Business sign up
If you're a local business that would like to register for the app email business@westoxon.gov.uk. It is free to participate and offers more options to digitally market your business. 
Terms and conditions for businesses
The following businesses are eligible for a listing on the Love West Oxfordshire LoyalFree app:
Restaurants
Garages
Cafe's 
Accommodation
Pubs
Tourist Attractions
Or, meet four of the five following criteria:
Have commercial premises, registered for business rates
Retail or Health & Beauty services
Proximity to other businesses in a town or village centre
Customer facing
Businesses that operate from fixed premises, have an open door policy and customers can walk in off the street
Funding for the project will be coming from the European Regional Development Fund (ERDF) as part of its Welcome Back Fund.
West Oxfordshire District Council makes no representations, warranties or guarantees, whether express or implied, as to the quality or suitability of the goods and services offered through this application